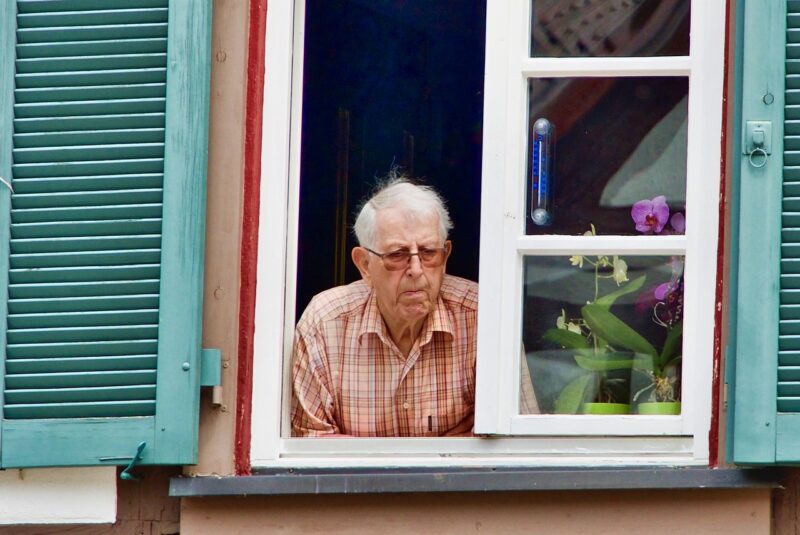 Now that spring break is coming, many of us are looking forward to doing some spring cleaning.
It may not seem obvious, but getting rid of clutter inside the house has more benefits than just having a clean space. Especially if you live with elderly people, keeping the house minimalistic and tidy will be safer, as it allows for a lot of room to maneuver and removes possible tripping and fall hazards.
What else can be done to proof a house for our elderly loved ones? In this article, we provide some tips for aging safely and gracefully "in place," in the comfort of their homes.
The most important matter is to have emergency numbers ready. This includes 911, friends and family to contact, and your doctor's office. The list of numbers should be readily accessible and written or printed in a large font, so that it is easily readable even in a panicked or agitated state, or even without vision aids. A medical alert bracelet or an alarm system can also be obtained for urgent medical care when necessary.
Before deciding on the modifications to do, it is helpful to do a visual and functional inspection of all rooms throughout the house. Even so, there are general rules to be followed. For example, in all spaces, adequate lighting is a must. Clutter must be reduced, and support rails are a good idea to help prevent falls. Get rid of scatter rugs, and instead use non-slip versions.
Entryway and stairs
Ideally, the doorway should be wide enough to accomodate a wheelchair, if necessary.

The entryway should be free of obstacles, such as potted plants.

The outside path should be cleared of snow and ice in the winter and of leaves in the autumn.

If there are stairs, there should be no broken or damaged steps.

There should be good lighting in the area. Place light switches at the top and bottom of the stairs, and night lights should be available.

Solid rails for support should be added on the sides of the walkway. Rails should always be on both sides of the stairs.

If your loved one has difficulty accessing the stairs, perhaps a stair glide, ramp, or porch lift can be added.
Bathroom
Install grab bars to provide support in case of falls and/or slipping.

Use anti-slip mats.

Put a hand-held shower head. This is so the nozzle can swiftly be moved away with sudden changes in water temperature, and this will also facilitate cleaning.

Use lever faucets to minimize strain on the hand and wrist.

To avoid reaching, organize commonly used toiletries in a caddy.

You can install a walk-in-shower or tub, or use a bath seat or a transfer bench to facilitate mobility.

Promptly clean up wet floors or spills.

Devices to raise the height of the toilet or toilet seat can be used for better accessibility.

The thermostat on the water heater should not be greater than 120oF (48oC) to prevent scalding and burns.
Bedroom
An assistive device may be used to help with bed transfers, if necessary.

Ensure that there is a clear path from the bedroom to the bathroom.

If your loved one needs to frequently access the bathroom, consider having a bedside commode or urinal.

The bed shouldn't be too high, in case of falls. A mat or rug around the bed is also a good idea for additional cushion.
Kitchen
The stove and oven should ideally have a lock feature.

All appliances should ideally have an automatic shutoff feature to avoid fires.

Heavy small appliances and kitchen supplies, such as pots and pans, should not be put on high shelves. This is to avoid reaching and dropping and being hit by such objects.

Glassware should not be above eye level, lest they break while being taken.

The kitchen mat should be non-slip.

A reacher/grabber device can be used to help obtain items.

Appliance knobs should ideally be in front for easy access. Alternatively, a knob turner can be used to minimize wrist and finger strain.
Living room
Areas for walking should be clear of clutter, particularly loose wires and cords.

Rugs and mats should be non-slip, with the corners secured to prevent tripping.

Furniture should be anchored to the wall.

Furniture risers can be used to adjust the height of low furniture.

Poufy armchairs should be avoided, as this can be a source of suffocation in individuals who sink into the cushions, fall asleep, and is predisposed to positional asphyxia.

A floor-to-ceiling pole or other assistive devices can be installed for support when people rise from furniture or to hold onto while walking.
Fire protection
Fire exits should be available, and your loved one should know how to leave the house and what to bring in an emergency.

Appliances should be checked for damaged cords.

Outlets should never be overcrowded and should not be near sources of water.

Cigarettes, candles, and other fire hazards, should not be left lit unattended.

Heaters and vents should be at least 3 feet away from anything that can catch fire, such as linen and furniture.

Appliances should be off when not in use.

A smoke detector can be installed, and a fire alarm can also be added as an extra precaution.

Keep a small can of fire extinguisher in ready access.
Against poisoning
Rooms and houses should not be heated using ovens, stoves, or grills,
as these emit carbon monoxide, a deadly gas that has no smell.

A carbon monoxide detector should be in place near all rooms.

Medications should be properly labelled, ideally in large print, and should be in their original containers to prevent confusion. They should be stored as indicated.

Cleaning solutions should never be mixed, as these can emit deadly gases.
Against intruders
Doors and windows should always be locked. Ideally, windows should have a screen to prevent pests and to deter criminals, and these shouldn't be easily opened fully from the inside to prevent falls.

Educate them about scams on the phone, on the Internet, or in person.

Secure information should never be shared with any unknown or unidentifiable contact.

Strangers should not be allowed to enter inside the house.

A doorway audio and video surveillance system may be helpful, as well as a security alarm in place, in case of untoward incidents.
Keep your loved one safe
A healthy person is better kept safe when his or her surroundings are safe, but also when he or she has adequate mobility. A stable walker is best to have when necessary, instead of a single cane. A wheelchair or a scooter that is easily collapsible and can fit into cars for transport is also a good idea. Finally, a consistent exercise and stretching regimen will keep our elderly loved ones stronger and less likely to suffer from falls or other accidents.
Frequent visits and inspections to your loved ones will also keep them happy and cheerful and will enable you to identify other risks inherent in their household or in their neighborhood.
Here to help
At Likas Nursing and Home Care, we can make a personalized care plan for you, which can include companion care, personal care, and/or home health care. Contact us for a free consult today!